---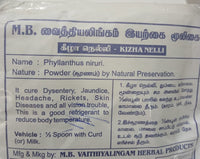 Keezha neeli powder: Keezhanelli  best known as a kidney stone remedy.
 it's a powerful kidney stone deterrent. Keezhanelli can help relax the ureter after lithotripsy to help stones pass. Lithotripsy is a procedure used to break up stones in the urinary tract. For headache, dysentery, jaundice also it is good.
Use:1/2 spoon with curd or milk.