---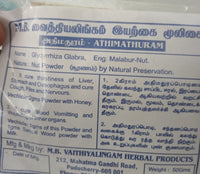 Athimathuram Powder: From the root of licorice (Glycyrrhiza glabra), a sweet, aromatic flavoring can be extracted.  It is used for the treatment of many health problems.
It has a sweet flavor
Anti-inflammatory
Acts as a laxative
Rejuvenator
antioxidant
Immune booster
Cures acidity and indigestion. ...
Treatment of chronic cough and cold. ...
Relieves stress and fights depression. ...
Menstruation. ...
Menopause. ...
Constipation and indigestion. ...
Pain Reliever. ...
Eye Care.